One of the last things we did before leaving for Korea was to have Joy's orthotist at
Winkley
make molds for new AFOs. That's an acronym for Ankle Foot Orthosis, a brace that fits over Joy's foot like a boot and extends to the top of her calf.
Joy wears AFOs on both feet and first began using them for standing shortly after she came home from Korea. (In this photo, she was18 months old.)
Cerebral Palsy interferes with the typical transmission of nerve signals between her limbs and her brain. Her brain incorrectly perceives that her feet should be pointed most of the time (as they are in this photo, at 14 months), which interferes with bearing weight through the bottom of her feet for standing and stepping.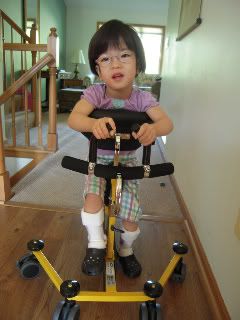 The AFO holds her foot at a 90 degree angle, and has a hinge at the back that allows her some range of motion when she steps.
This is Joy's third pair of AFOs. We'll need to have a new pair made about once a year until she stops growing. Now I have to figure out what to do with outgrown ones. They're custom made so we can't pass them on. But they've been part of our daily life for over a year. Like a cast of a dinosaur footprint in an ancient stream bed, the lavender pair preserves the vanished contours of the second year of Joy's life.
Of course, I'm keeping her very first pair --the orthopedically challenged child's version of the first pair of shoes, even if I don't have them bronzed. But this pair with demure lavender butterflies... Maybe I'll keep them for now. And next year, when these garishly new, jazzy stars have become old, outgrown friends, I'll reconsider. Maybe I'll thin the collection then. Or maybe I won't.